Pre-Connection Steps:
Install the Aluvii Prerequisites
This installer contains packages required by Aluvii. Install this package prior to all other installs.
Click to Download Prerequisite Bundle
Unplug the printer's USB cord from the computer. You will plug the cord back in during the printer driver installation.
Install the Printer Drivers
Download and Install the drivers in the following order
Connection Steps:
Configure the Receipt Printer
Go to C:\Program Files (x86)\OPOS\StdOPOS2.83 and launch SetupPOS.exe.
This application is the configuration tool, installed in the second driver, which configures your receipt printer as an OPOS printer.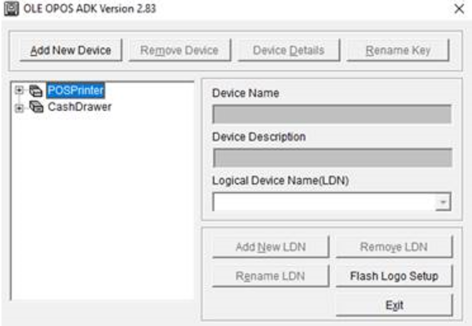 Click on the POSPrinter header, then click the Add New Device button.
The following screen will appear. Set the device name to Thermal. Set the device type to ThermalU for USB connections and to ThermalS for serial port sonnections.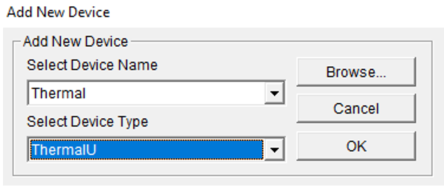 Your printer configuration will appear under the POSPrinter header along with any other previously configured printers.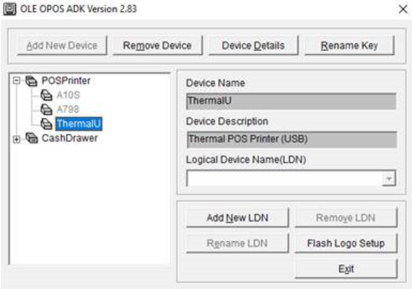 Verification Steps:
Test the Receipt Printer
Select the printer you wish to test (ThermalU) and click the Device Details button to show the following screen.
Click on the button labeled "Printer Test and Setting" to show the following screen.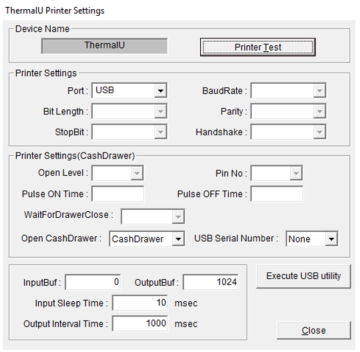 Click the Printer Test button to send a test print to your receipt printer.