Price Rules are what drive your bookings and events. You can create deposits that are required, and pricing that increases with each additional guest. To begin follow the instructions below.
1) Head to the Event Management Module and locate the Price Rules Tab.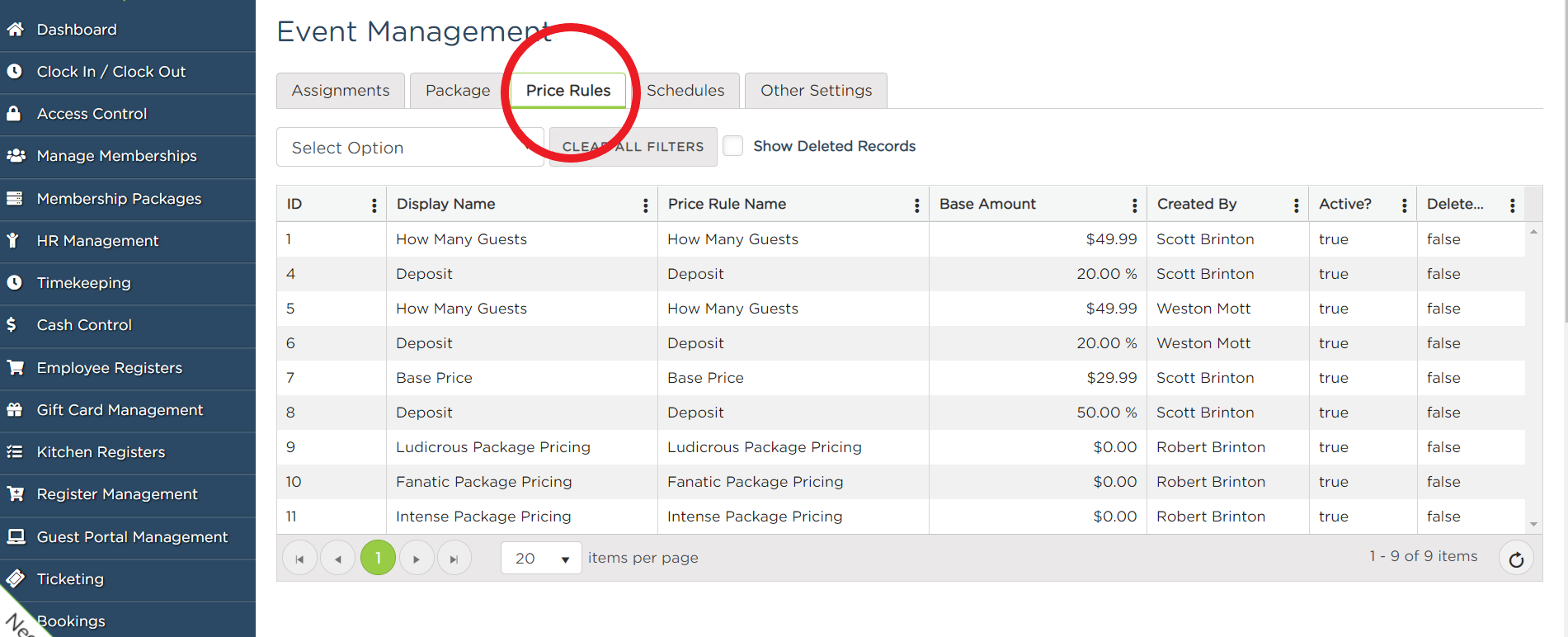 2) To create a new price rule, hit "Add Price Rule" from the Select Option drop down menu.
3) Give your price rule a Name and a Display Name. The Display name is what your customer will see when booking. If your price is dependent on amount of guests, it would be wise to name the display name "Amount of Guests", this will create a required guest count field on your bookings form. When the guest fills out the field on the user end, the price will adjust accordingly. 
4) Select a Rule Type for base price or deposit. 
A base price is how you set the pricing based on the quantity of guests. And this allows you to set a base amount and pricing tiers that can increase by each tier of guests depending on your pricing rules. For example, you may set a base amount for the event of $49.99 and that includes up to 10 guests and then any guest above the included 10 could be $5 per person. So the first price tier would have a lower limit of 1 and an upper limit of 10 with the variable amount being $0. (each guests is $0 because the first 10 are included with the base amount.) then the second tier would be lower limit of 11 and upper limit of your max capacity, and the variable amount would be $10 for every 1 guests above 10. See example at the bottom of this article. 

to setup a base price, set a base amount that we can either leave as is, or increase with guest count. If you party has a minimum guest count, make the base price include that guest amount.


The "description" field is what shows up on the event portal when you hover over the little question mark icon next to the price rule. This can describe in more detail to the customer what the pricing includes.
To increase price with increasing guest count you can edit the sub-rule on the bottom section of the page. The Lower Limit is the minimum amount of guests, the Upper Limit is the max, or the most guests you can have at the set price. You can have multiple sub-rules, for example: anything below 10 guests will charge $10 a guest, anything above that can be set to 8$ with a second sub-rule.

A Deposit rule type can be setup if required by your facility. you can set the deposit as a percentage, or a flat minimum deposit. You can also make it required or not on both the event portal and the employee portal. This rule type is used for taking a minimum deposit on a booking. 

To put your new created price rules into effect, make sure to add it to your event package. Packages can have more than 1 price rule assigned. Note: you can add price rules to assignments AND packages, BUT if a package is used, the package price rules always override the assignment price rules. 
Typically business's that use Aluvii setup a price rule similar to the example below. A required deposit along with a base price. In order to do this, you need 2 separate rules.
This setup will do the following:
Taking into consideration another price rule has already been setup for a $25 dollar required deposit, this base price rule will automatically charge $49.99 (subtracting your deposit if applicable) and an additional $5 for every guest after the first 10 up to 30, the max.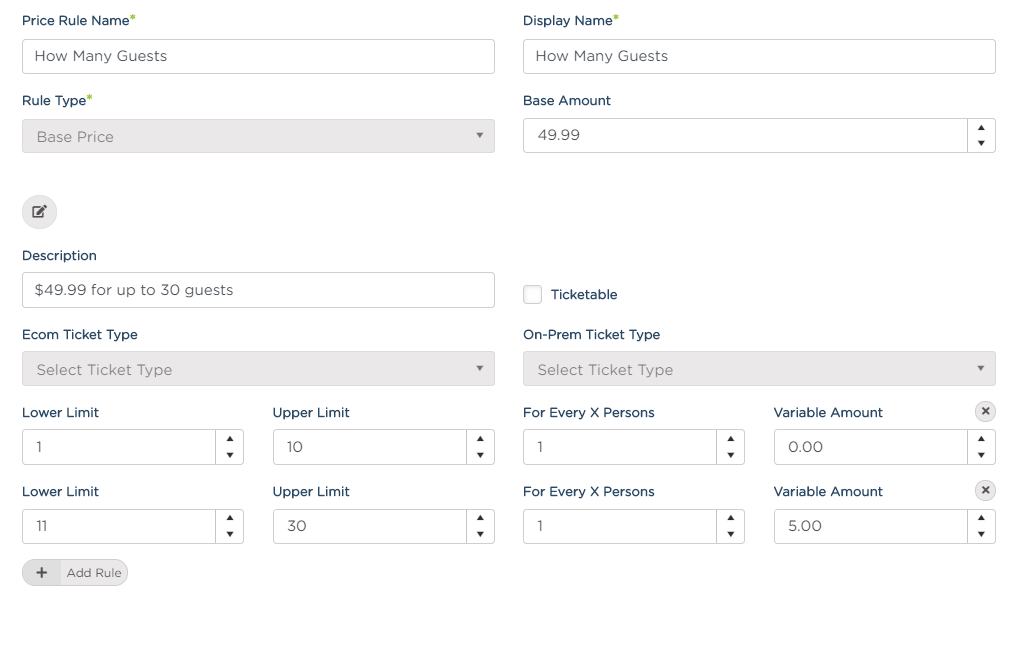 If you have any more questions about price rules, please reach out to Aluvii customer service.