Zapier is a middle-man app manager that makes integrating with hundreds of commonly used apps, such as MailChimp and Google Drive, seamless. You can integrate your Zapier account with Aluvii to have full integration with all of these apps.
1. Log in to your Aluvii portal, and navigate to Integrations in the left menu.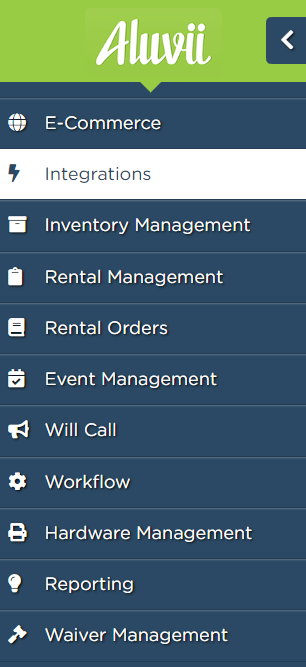 From here, all of the possible integration systems will show up.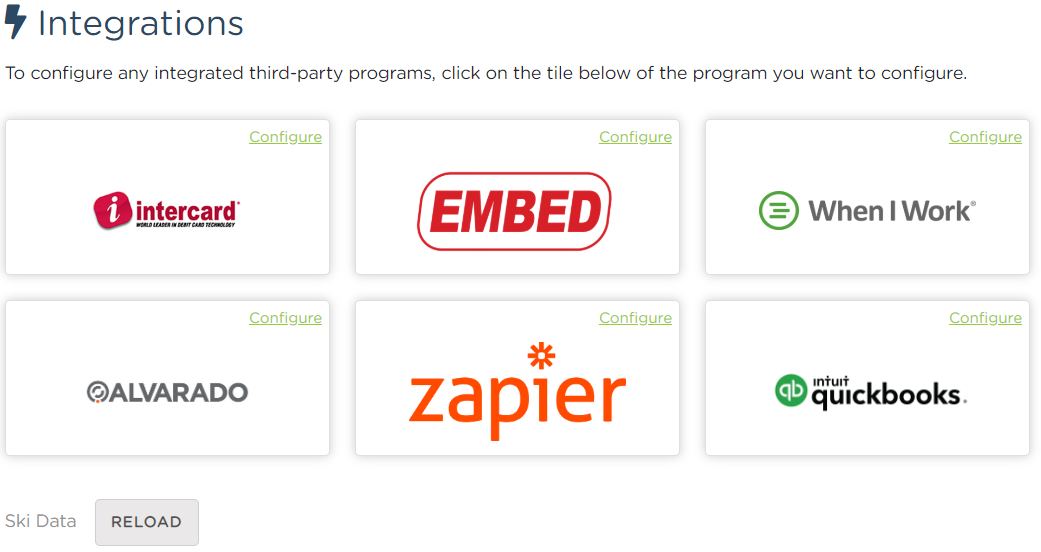 2. In the Zapier tab, click on Configure.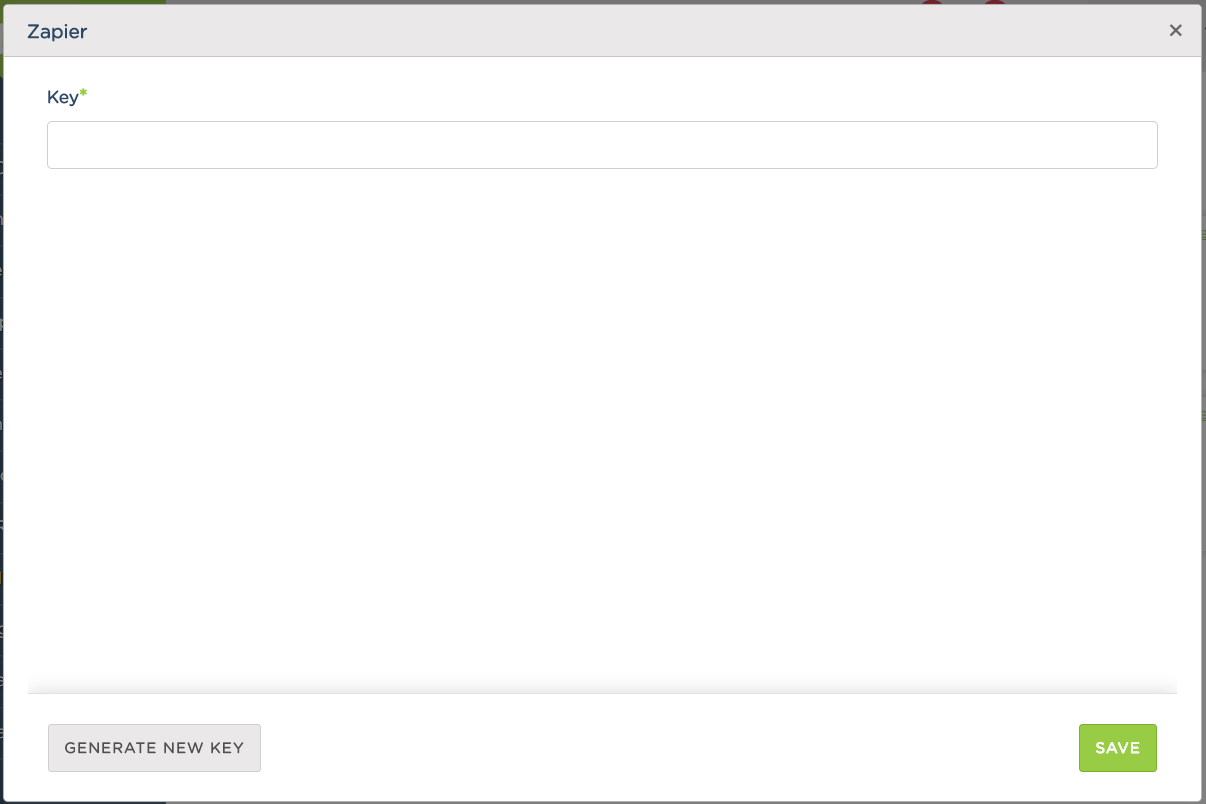 3. Click on Generate New Key. A new key will generate in the Key field. You will need this to integrate with Zapier on their end.
4. Click on Save.
Guest Data Zap
The guest Zap captures information regarding new or modified guests. You can configure it to only include new guests or for new and modified guests.

Every time the link runs, by default, it looks back at the last hours and includes all guest information that was added or modified in the last hour.

Sample data follows:

const sample = {
"id": "1648254-43494.986177932100",
"ClientName": "mypark01",
"UniqueId": "1648254-43494.986177932100",
"GuestAccountId": 833328,
"IsGuestAccountOwner": "true",
"GuestAccountOwnerEmail": "sampledataown@aluvii.com",
"FamilyMemberNumber": 1,
"GuestId": 1648254,
"AnonymousGuestId": 4857,
"CreatedOnUTC": "2019-01-31T23:40:05.773Z",
"CreatedOnLocal": "2019-01-31T19:40:05.773Z",
"CreatedByUserId": 1,
"CreatedByName": "Admin Account",
"UpdatedOnUTC": "2019-01-31T23:41:12.893Z",
"UpdatedOnLocal": "2019-01-31T19:41:12.893Z",
"UpdatedByUserId": 0,
"UpdatedByName": "Admin Account",
"FullName": "John Doe",
"FirstName": "John",
"LastName": "Doe",
"MiddleName": null,
"PrimaryEmail": "sampledata@aluvii.com",
"SecondaryEmail": "",
"PrimaryPhone": "8019017900",
"IsPrimaryPhoneMobile": "true",
"SecondaryPhone": null,
"IsSecondaryPhoneMobile": "false",
"StreetAddress1": "3381 W Mayflower Ave.",
"StreetAddress2": null,
"ZipCode": "84043",
"City": "Lehi",
"State": "UT",
"CountryCode": "US",
"CountryName": "United States",
"SecondaryStreetAddress1": null,
"SecondaryStreetAddress2": null,
"SecondaryZipCode": null,
"SecondaryCity": null,
"SecondaryState": null,
"SecondaryCountryCode": null,
"SecondaryCountryName": null,
"BirthDate": "1994-11-17",
"LanguageLocale": "en-US",
"LanguageName": "English",
"StateName": null,
"ReferenceGuestId": 0,
"ImportedId": null,
"HeightFeet": 6,
"HeightInch": 2,
"WeightLBS": 185,
"FootSizeId": 2051,
"FootSize": 10,
"SizeTypeId": 112,
"SizeType": "U.S. MEN",
"SkierTypeId": 2,
"Gender":"Female",
"Tag": "Aqua Park 2019,Online,Waiver 2019",
"Park": "My Park",
"GuestSales": 120.50,
"GuestAccountSales": 250
};