This article explains how to import discount codes. This article assumes you are familiar with creating discount packages and issuing discounts with discount codes.
1. Launch Register Management Activity > Discount tab > Discount Package sub tab and note the ID of the Discount Package to which you would like to add discount codes and click on the Import button.

2. Download the Discount Code Import Template and populate it with the desired data.
Fields
DiscountPackageId
Description: this field indicates to which discount package you'd like to add the discount codes. See step 1 as a reminder on where to find the DiscountPackageId.
Data Type: integer (whole number)
Required: Yes
Must be Unique: No
DiscountCode
Description: the text you would like to enter at the time of purchase to grant the discount. Be sure there are no spaces in the text
Data Type: text (no spaces) up to 20 characters
Required: Yes
Must be Unique: Yes
ExpirationDate
Description: expiration date of the discount code
Data Type: text in this format: 'MM/DD/YYYY. The date must have an apostrophe in front of the date, so that excel recognizes it as a text string
Required: Yes
Unique: No
IsRestrict
Description: indicates whether the discount code can be used with other discount codes on the same transaction within a discount package
Data Type: Boolean (you can use either the words true or false or the numbers 1 (for true) or 0 (for false))
Required: Yes
Unique: No
Usage
Description: the number of times the discount code can be used (ever, not just per transaction). Enter 0 for unlimited uses
Data Type: integer (whole number)
Required: Yes
Unique: No
3. Save the spreadsheet preserving the file format as CSV UTF-8 (Comma delimited) (*.csv)
4. Return to the Import Discounts modal and click Choose File and select the populated spreadsheet of discount codes and click Next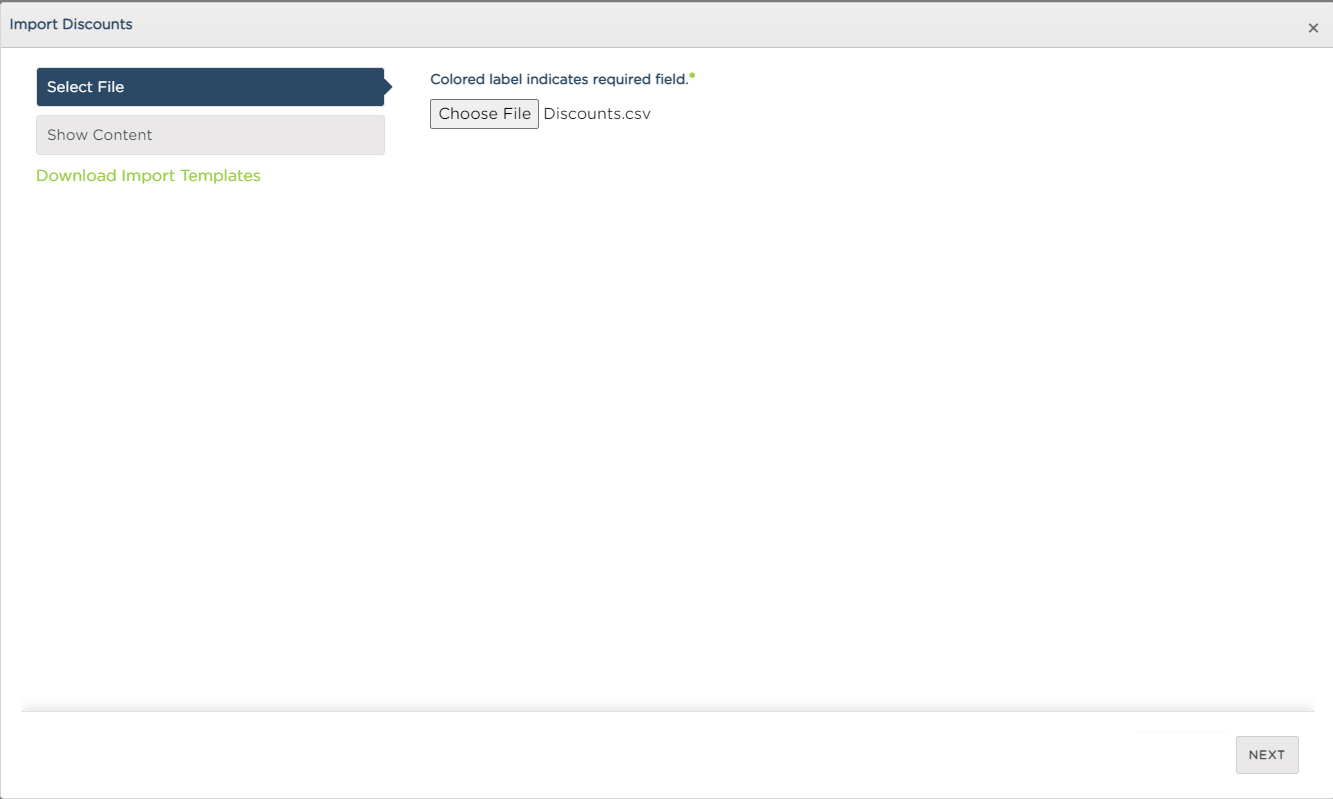 5. Review the content import for accuracy and select Submit.