Workflows give you more advanced setup options. In this article, we will discuss how to set up the workflow for waivers.
1. Log in to your Aluvii portal and click on Workflow in the left menu.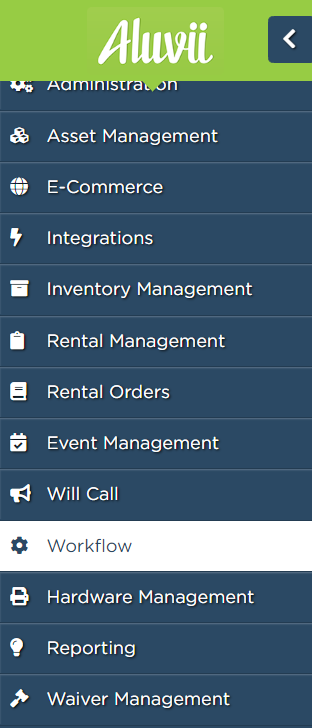 2. In the first dropdown menu, select Waiver. In the second dropdown menu, select the waiver you wish to edit. At first, there will only be one waiver, but if you use different settings for multiple waivers, you can click on Copy Workflow to create a new one that you can assign to different waivers. To learn more about assigning workflow to waiver forms, click here.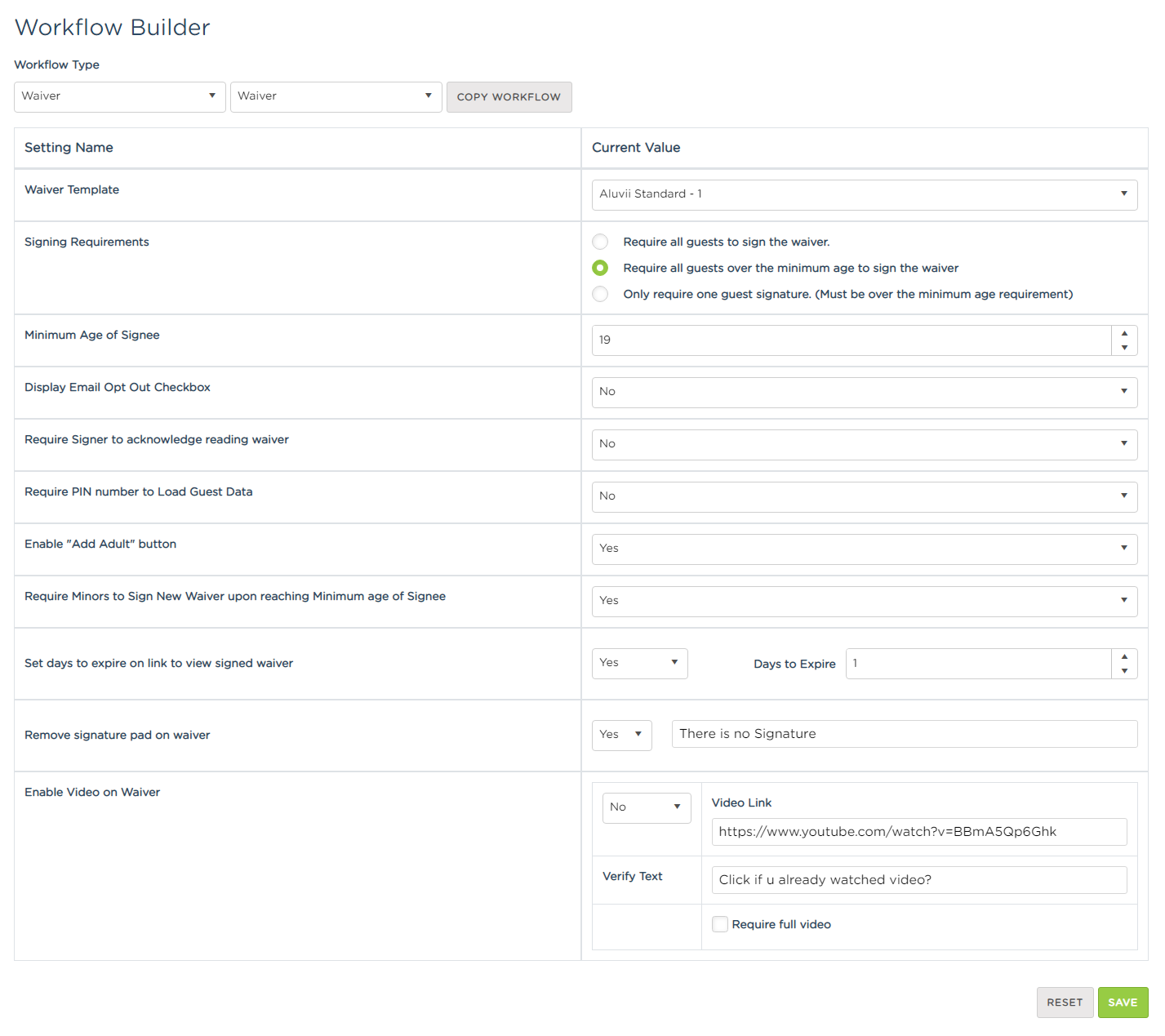 3. Fill in the fields to create your workflow.
Waiver Template - select the waiver template
Signing Requirements - select the requirement that best suits your needs. This only applies to template 1. Template 2 only allows 1 signature.
Minimum Age of Signee - the minimum age of the guest in order to sign. Most jurisdictions will have 18 years old.
Display Email Opt Out Checkbox - if you use the waivers to gather marketing emails, add this box so your guests can opt out of receiving marketing.
Require Signer to acknowledge reading waiver - require that the signer of the waiver check that they have read the full waiver.
Require PIN number to load guest data - When filling out the waiver form, if an email already exists, it will load the data so the customer doesn't have to enter the data again. Enabling this feature will require a PIN number to load data for added data privacy.
Enable "Add Adult" button - enabling this feature will add a new button on the waiver form to add an adult. Some areas want adults to sign their own waiver instead of being added to the same waiver as other adults.
Require Minors to Sign New Waiver upon reaching Minimum age of Signee - If the minimum at is 18, and a 17 year old signs a waiver, if the expiration date would normally fall after the 18th birthday, then the expiration will be set to the 18th birthday to ensure they sign a new waiver as an adult. The same concept applies even if the minimum age is set different than age 18.
Set days to expire on link to view signed waiver - after signing a waiver, the signer will receive an email containing a link to the signed waiver form. This feature allows you to set the number of days till that waiver link expires, adding another layer of data privacy.
Remove signature pad on waiver - you can opt to not have a digital signature pad to collect signatures. When you remove it, it will add a button to submit the waiver in place of the signature, and it will add this custom text.
Enable Video on Waiver - Enabling this feature and adding a YouTube video link, this will require the signer to watch the video before proceeding to the waiver form. This is only supported on waiver template 2. Checking the box to require a full video will not show the next button until the video has finished. See below for more info on waiver videos.
4. Click on the Save button to save the workflow settings.
Video on Waivers: Aluvii offers the ability to watch a video (usually a safety video) as part of the waiver process. In fact, some jurisdictions may require a safety video, and/or some insurance carriers may offer discounts for requiring guests to watch a safety video. To enable this, see the description above.