Actually, you cannot sell gift cards directly in eCommerce. What you can do is sell a ticketed product in eCommerce so your customers can buy it and redeem it in exchange for a gift card. Here's how you can set it up:
To begin, let's create an Entrance Entitlement for your gift card tickets so to avoid confusion between admission tickets and gift card tickets. In this example, we created an entitlement called "Gift Card". If you don't know about this, click here to know more about Entrance Entitlement.

Then, let's create a Ticket Template for your gift card in PDF print format. If you are not familiar with this process, click here to know more about creating ticket templates.

Next. let's create a Ticket Type for each denomination of gift card you want to sell and assign the PDF ticket template that you just created. In this example, we have created a ticket type for a 50 dollar gift card. Click here if want to know more about ticket types. NOTE: make sure that you assign the entrance entitlement that you created in step #1 to this ticket type.

After that, create each gift card as a product in the eCommerce > Products page for each denomination that you have. In this example, we created a $50 Gift Card product. Click here to learn more about creating products in eCommerce.

Now that you have the product, enable the Ticket option and assign the Ticket Type you created for this denomination in step #3. If you are not familiar with this process, click here to know more about attaching tickets to eCommerce products.

Once the product is purchased by a customer, a pdf ticket will download automatically and will be provided to customers to be redeemed.

Upon customer arrival on-site, they will present these redeemable tickets and you will be able to scan them in Access Control. When scanning these gift card tickets, use the "Gift Card" entitlement that you created in step #1.

When the scan failed, that means that the gift card ticket has already been redeemed.

Finally, if the scan is successful, you can now issue a gift to the customer.
Issuing a gift card to a customer using Gift Card Management
In the Gift Card Management > Gift Cards tab, click on Select Option and select Bulk Generate.

Next, select the Generate One Card option, and fill in the required details of the gift card like the corresponding amount that your customer has purchased. Click on the Save option to update the settings. NOTE: if you don't have a pre-defined gift card barcode, you can use the barcode found in the PDF ticket of the customer.

Finally, to check the value on the card, mock a transaction in the Employees Register and pay for it using the gift card barcode you just issued. It should show the amount on the gift card by clicking the Get Balance option.
NOTE: This process will only generate one gift card. If you think this process is a hassle every time your customer purchases gift cards online, you can always do bulk-generated gift cards and have them printed ahead of time. With this, you just need to validate their redeemable tickets and give them the printed gift cards in exchange.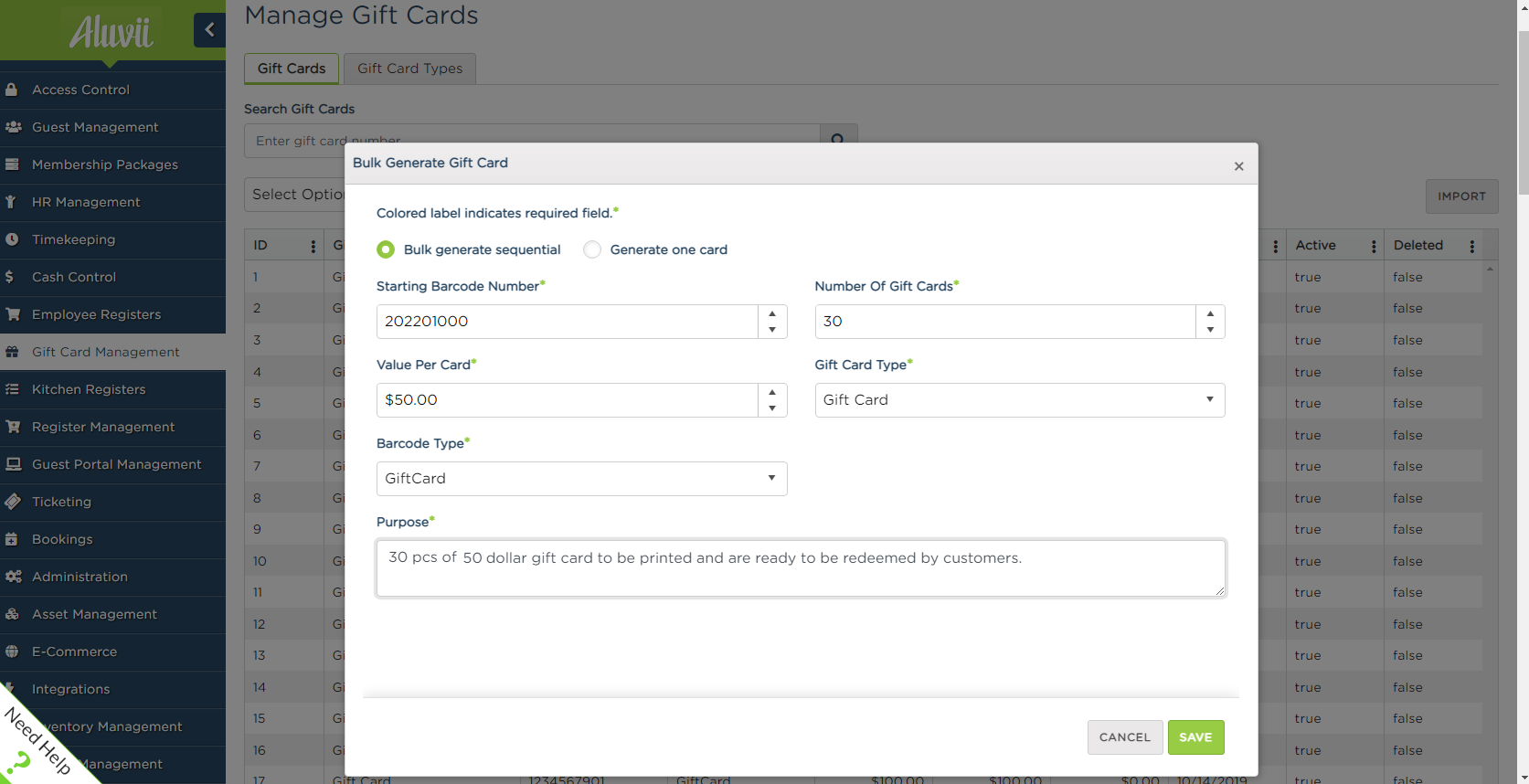 TIP: You will need to define your own barcode number when doing bulk generation of gift cards. But you will not be able to use the alpha-numeric combination for the barcodes since it will be incremented according to the number of gift cards you will generate. Click here to learn more about Bulk Generating Gift Cards.