What is an Assignment?
In the event management activity, you'll need to create an assignment for customers and employees to book or reserve a venue or site. An assignment contains all the rules and configurations driving a given booking option. For example, if you are a fun center renting out party rooms, and a customer wants to reserve party room 1 at 5pm on July 4th, selecting that time slot will drive a whole set of rules including capacity, price, upsell options, FAQs and terms & Conditions. In addition, you might offer the same room for wedding receptions. In this case, a new assignment can be set up with its own rules and configurations even though it's the same room.
How to create/edit an assignment
To create or edit an assignment, first navigate to the Event Management activity in the vertical menu on the left. Then follow the steps below:
1. In the Assignments tab along the top, select Add Assignment from the grid drop down options

2. Details Tab: In the first tab called Details, fill out all the relevant fields. See below for a detailed description of each field.
Name: This will be the name of the event or party room you want to create.
Category: All events or party rooms are in categories. For example, if it is a party room you are creating you would put this assignment under the category "book a party"
Site: Site is what drives the location of the event. You can set up sites in the admin section of the Aluvii software. This is where customers will see the address as well as other site information and descriptions such as "McQueen Party Room 1".
Tax Option:This is where you assign the sales tax to be charged on this event.
Capacity: This is where you can designate how many people are allowed in this event or party room.
Exclusive Use: Exclusive use means that even if one person group books this room the whole party room is booked. For example, if you mark "yes" under exclusive use then that particular room will show as reserved after one customer signs up for that room or event. If you mark "no" then multiple customers will be able to sign up for that event until the designated capacity is filled. An example of when you would mark "no" is if you are setting up a laser tag session and you want multiple groups to be able to sign up for that laser tag game.
Accounting Code: This designates the code for accounting and reporting purposes.
Time Zone: This is where you set the time zone for this event
Waver Required: If you want the customer to sign a waiver for this event toggle "yes"
Waiver: This is where you choose which waiver template you want the customer to sign.
Active/Deleted: This is where you can activate or delete an assignment.
Advanced booking: This is where you can designate how many minutes before the start time that a customer has access to that room and therefore can't be booked to someone else.
The booking link is a link people can share with there friends. For example, if you are signing up for a lasertag game and you want your friends to sign up as well you can share that link and they can sign up for this particular session.
Description: This is where you can describe what this event/party room is for your customers to have more information.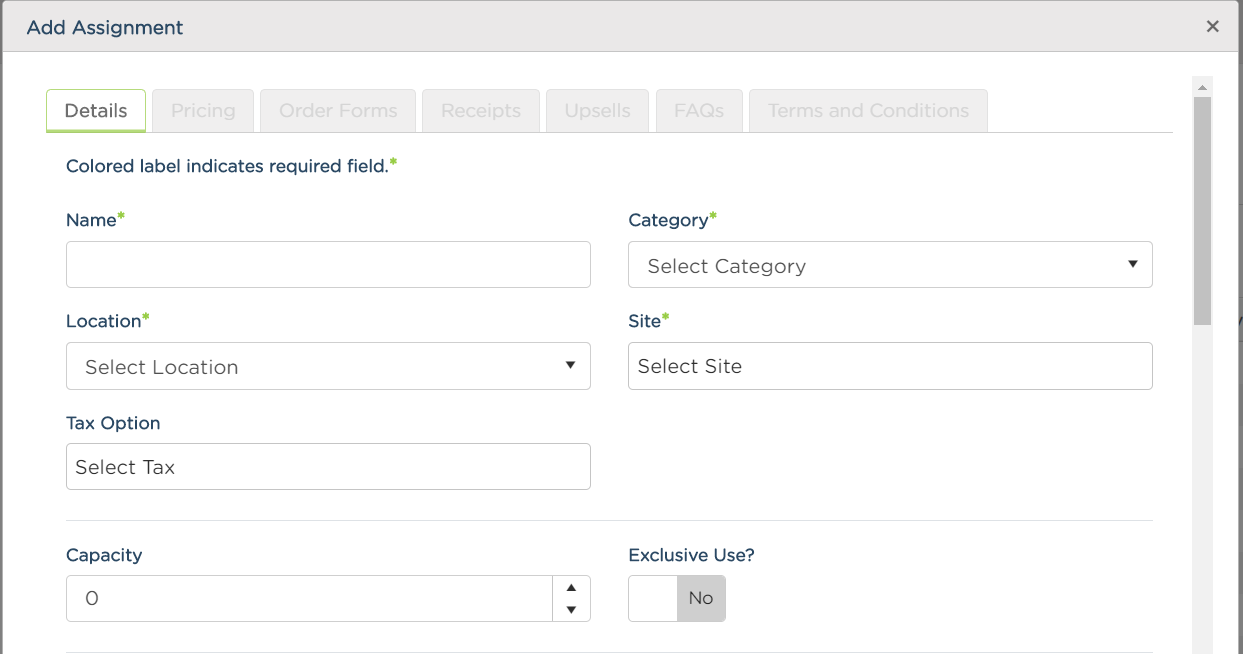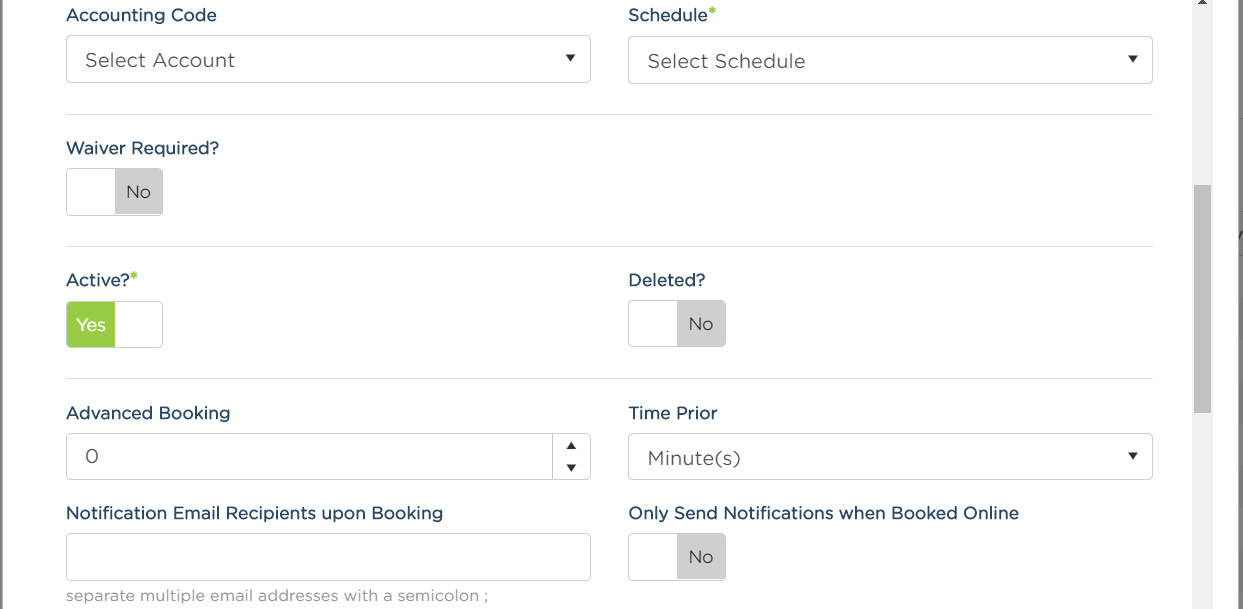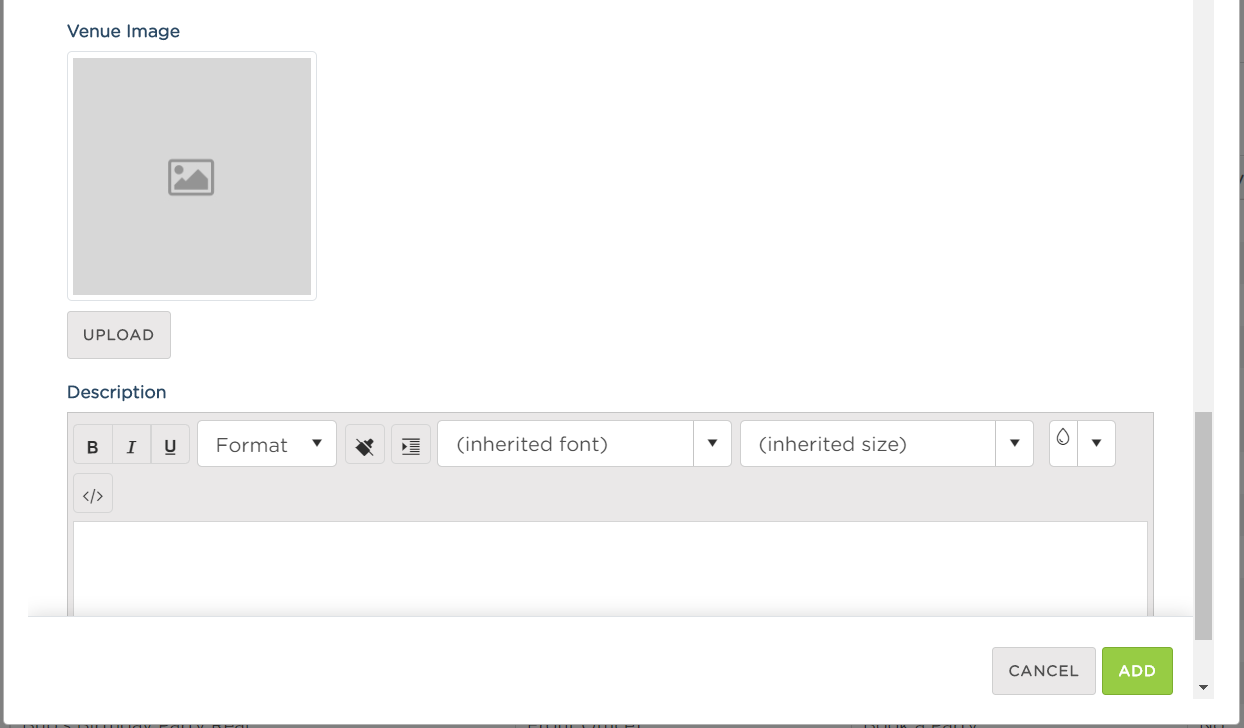 3. Pricing Tab: select the pricing rules from the dropdown menu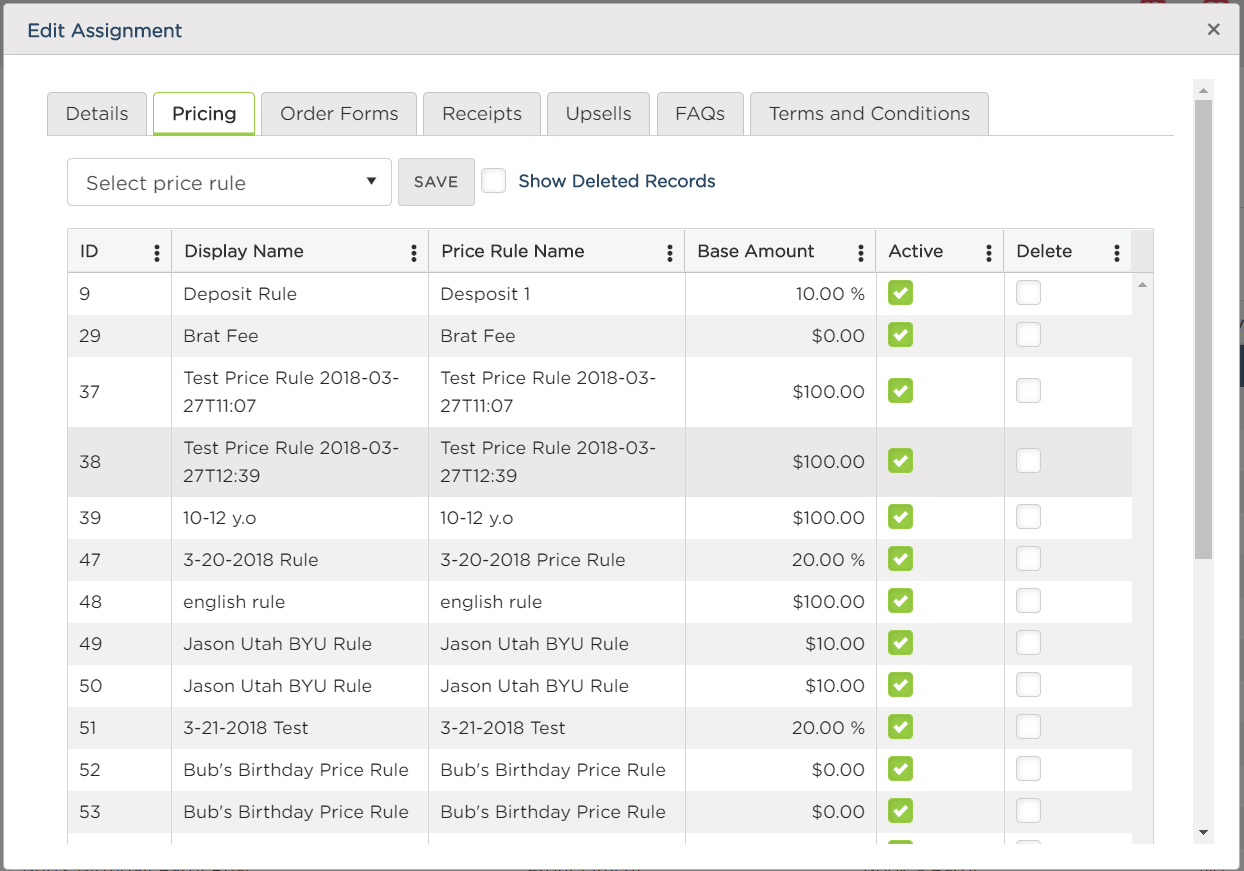 4. Order Forms Tab: select the custom fields you wish to include. To learn more about custom fields, click here.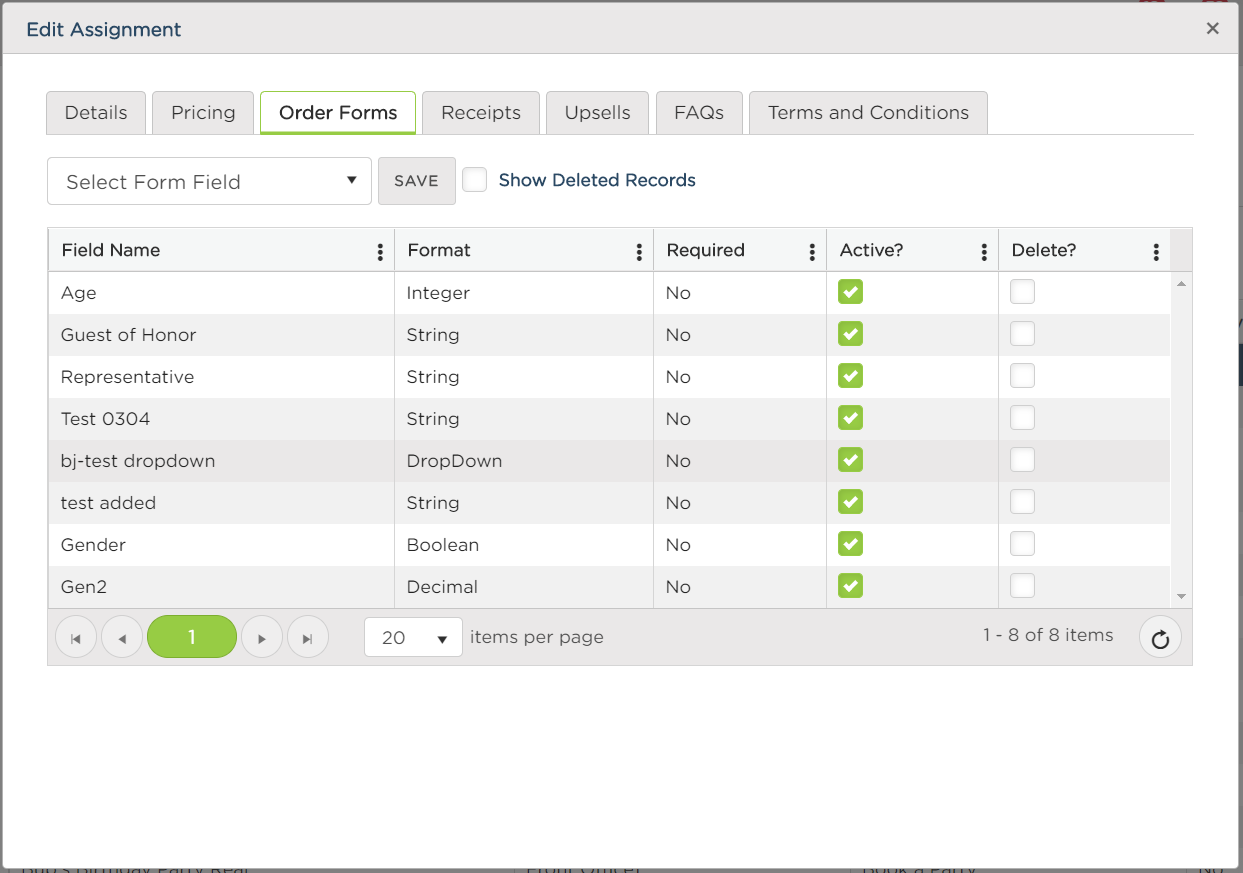 5. Receipts Tab: select the receipt formats for the receipts. To learn more about receipts, click here.

6. Upsells Tab: select the upsell options for the assignment.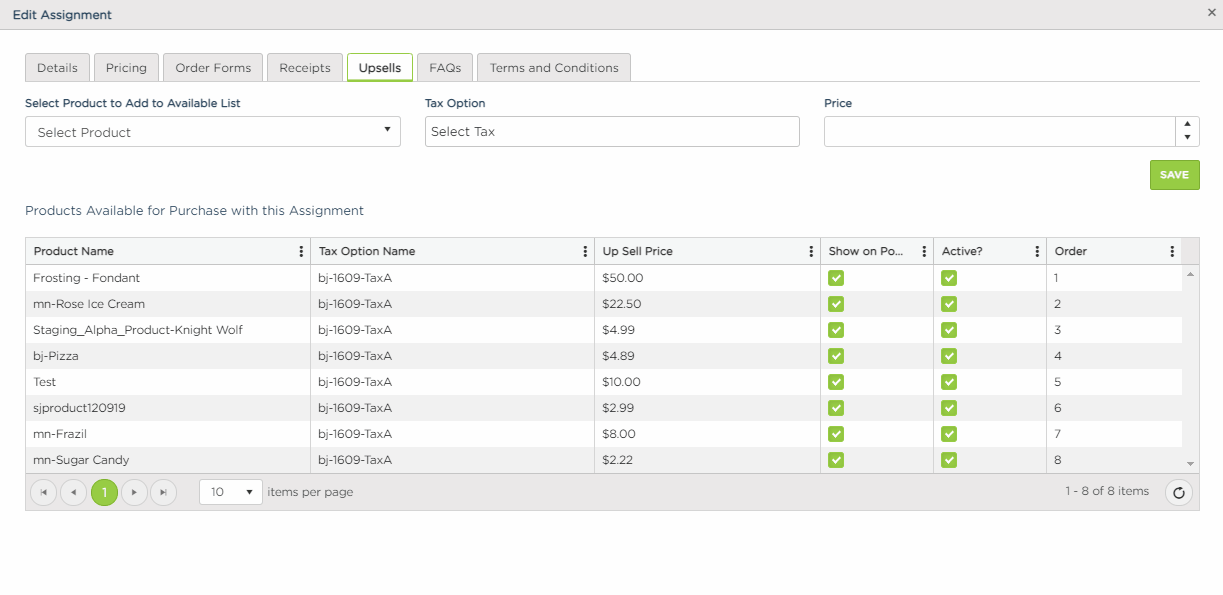 Note: You can change the order of the upsell by dragging and dropping the items based on your desired order. The order will autosave upon making the changes.
7. FAQs Tab: decide whether the FAQ's will show up on the event portal

8. Terms and Conditions: select whether you want to remove the terms and conditions from the event portal. You can also define the terms and conditions from here.